Post by fbczar on Mar 1, 2019 11:57:38 GMT -5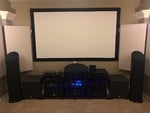 By convention the LFE Channel extends to 120Hz. Why would you limit the LFE frequency range to 100Hz? Remember, LFE is an effects channel for sounds like explosions and such. The crossover you set at 80Hz does not relate to the LFE channel. It relates to the integration of your main speakers and subwoofers for music and such. The LFE channel normally acts independently of your main speakers and relates only to your subwoofers. You can increase or decrease the level of the LFE channel, of course, but I don't understand why you would want to limit its frequency range unless your subs cannot play above 100Hz.
As far as controlling bass or keeping it in your sound room, there is not much you can do once your room is built. If you have rooms above your sound room 4' to 6" of rock wool on top of the sound room ceiling might help. you could do the same with the walls and floor of the room if you wanted to entertain a big project. Basically, decoupling the room from the rest of the house is the only way to be truly effective in controlling low bass.