Post by airwolf77 on Jun 9, 2014 10:21:09 GMT -5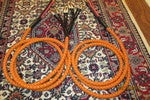 im sure glade your not wiring up my house... I believe the code here is 43 feet limit on 14/2 awg.. and 4 outlets max..
14 awg speaker wire should not be used over about 18ft imho..
cheers.
You might want to check the actual code before stating a "fact". Canadian Electrical Code (Ontario Included), and may of the US States allow for 12 devices on a single 15 amp breaker. Most electricians used to try and balance the load out with lights and plugs. A lot of them wire houses to cost the least amount of money and meet code unless the client requests specific upgrades. In the recent years many local codes are requiring ARC fault breakers on all plugs in bedrooms and even hallways. ARC fault breakers are not cheap, so to meet new code, may are wiring 12 devices as all plugs making the situation worse for guys who want less plugs on a circuit. Lights don't typically draw much power, but they do generate electrical noise if florescent lights are used or transformers to dim lights or even fans.
As many of the guys on the forum will tell you, its very helpful to have your amps on their own circuit if your trying to get the most out of your gear and keep the electrical noise to a minimum. I think there a few threads on that topic already. I'm not an electrician, but I did do 2 years as an electrical apprentice before joining the Air Force. Just food for thought.