Post by KeithL on Aug 28, 2018 10:12:44 GMT -5
As a very general concept, frequencies that appear on two or more lists are likely to cause problems, because your room is likely to experience standing waves at those frequencies in multiple directions at once.

It's basically telling you the various frequencies at which standing waves will occur in that room.
You get standing waves at frequencies where the wavelength is a multiple of the dimension.
So, for a room that's eight feet high, ten feet wide, and fifteen feet long, you get standing waves at multiples of those three wavelengths.
You will note from this that ALL rooms have room modes - frequencies where you get standing waves.
The trick is to spread them out or control them.
So, for example, in a room with three non-multiple dimensions, you will have a list of frequencies where room modes will occur for each dimension.
However, in a room where the dimensions are even multiples, the entries on each list will coincide,

Having a room with room modes at a bunch of different frequencies isn't so bad....

If you have a room that's six feet, by ten feet, by sixteen feet, you will get a list of room mode frequencies for each dimension, and they'll all be different.
(So you may end up with a bunch of little dips and peaks but they won't add up at any one particular frequency.)

But, if that room was six feet, by twelve feet, by eighteen feet, the room mode frequencies for six feet would occur on ALL THREE LISTS.... and so would add together or aggravate each other.

(And, in that case, you would be likely to see serious peaks or dips at frequencies that show up on two or more of those lists.)

The way you "use" this information is to try your best to AVOID situations where the three dimensions are even multiples of each other.
For example, when you design a speaker cabinet, you should avoid choosing dimensions that are even multiples of each other (for example, use 3 x 4 x 5 or 30 x 40 x 50, and NOT 4 x 8 x 12 or 8 x 8 x 16).

And the so-called "magic ratio" is simply a ratio of length to width to height where the three dimensions are as far from being multiples of each other as possible.
Note that the object of the game is to avoid having "high energy room modes" that coincide.... so the ones with lower energy matter less.
(Alternately, you can avoid rooms with parallel walls.... as many speaker designs in fact do.... but that can introduce other issues

).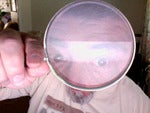 www.mcsquared.com/wavelength.htm
Another potentially useful calculator. This one allows a frequency to wavelength conversion.
This kind of information is useful in designing listening areas. Speaker designers use it in baffle design and enclosure proportioning.
www.mcsquared.com/modecalc.htm
The ROOM MODE CALCULATOR is useful for deign and execution of listening rooms. Checking in advance for Standing Waves allows for the construction of rooms with fewer problems and less need of Room Treatments (not to the exclusion of such treatments, however)
Entering square floor plans shows why square rooms and rooms with dimensions that are multiples of one another should be avoided. Even a room with an 8 foot ceiling which is 16x24 will probably give problems.
So I entered my room dimensions into The ROOM MODE CALCULATOR and was rewarded with this gibberish:
Room Dimensions
Room length
22.5
Feet
Room width
14.5
Feet
Room height
6.5
Feet
Axial Room Modes
Axial room modes
25.11111111111111
Hz
38.96551724137931
Hz
86.92307692307693
Hz
50.22222222222222
Hz
77.93103448275862
Hz
173.84615384615387
Hz
75.33333333333333
Hz
116.89655172413794
Hz
260.7692307692308
Hz
100.44444444444444
Hz
155.86206896551724
Hz
347.69230769230774
Hz
125.55555555555554
Hz
194.82758620689657
Hz
434.61538461538464
Hz
150.66666666666666
Hz
233.79310344827587
Hz
521.5384615384615
Hz
175.77777777777777
Hz
272.7586206896552
Hz
608.4615384615385
Hz
200.88888888888889
Hz
311.7241379310345
Hz
695.3846153846155
Hz
226
Hz
350.6896551724138
Hz
782.3076923076923
Hz
Tangential Room Modes
Tangential room modes have 1/2 of the energy of axial modes (-3dB).
Tangential Room modes
46.35600754080096
Hz
90.47756187591328
Hz
95.25719309145833
Hz
92.71201508160192
Hz
180.95512375182656
Hz
190.51438618291667
Hz
139.0680226224029
Hz
271.43268562773983
Hz
285.77157927437503
Hz
185.42403016320384
Hz
361.9102475036531
Hz
381.02877236583333
Hz
231.78003770400485
Hz
452.3878093795664
Hz
476.28596545729164
Hz
278.1360452448058
Hz
542.8653712554797
Hz
571.5431585487501
Hz
324.4920527856068
Hz
633.342933131393
Hz
666.8003516402083
Hz
370.8480603264077
Hz
723.8204950073062
Hz
762.0575447316667
Hz
417.2040678672087
Hz
814.2980568832194
Hz
857.3147378231249
Hz
Oblique Room Modes
Oblique room modes have 1/4 of the energy of axial modes (-6dB).
Oblique room modes
98.5114243978735
Hz
197.022848795747
Hz
295.5342731936205
Hz
394.045697591494
Hz
492.55712198936743
Hz
591.068546387241
Hz
689.5799707851145
Hz
788.091395182988
Hz
886.6028195808614
Hz
Sooo... as a less informed layman, how am I supposed to interpret this?😕🙉