Post by Ex_Vintage on Feb 12, 2019 22:07:10 GMT -5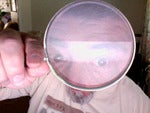 If the amp came with 85c, No Harm in going to 105c.
105C caps have a shorter lifetime than a similar 85C part. As was stated, the failure mechanism is vaporization of the electrolyte which is the same for an 85C or a 105C part (they use the same electrolyte). The higher the temperature the part is operated at the greater the vaporization rate and subsequent lifetime reduction. Higher operating temperature is realized by a combination of local ambient temperature and the operating current stress. 105C parts will have a lower rated current than an 85C part given an equal volume.
The advantage of the Liquid-type 'lytics is they are self healing. The anode foil will REOXIDE.
Only film caps have a "self healing" property. When the insulating layer in a film cap fails, the resultant short clears the metalization off of the film and they "self heal"
resulting in a slight loss of capacitance. When the insulating paper in an electrolytic cap fails, the resultant short causes an arc and the associated heating boils the electrolyte and they expand rapidly (explode or vent)
And when a piece of equipemnt has been out of service for an extended time period, it can be saved sometimes by brining up the voltage SLOWLY with a Variac and allowing
the caps to heal.
Electrolytic caps that have been unused for several years may need to be reformed. Using a variac or a current limited voltage source which will allow the re-formation of oxide on the aluminum foil re-establishing its voltage withstand capability.
Nelson Pass is on record as saying that such 'wet' caps SHOULD last 20 years or more. No that it means anything, but I have an old Kenwood Ingtegrated with original caps.
This amp is around 30 years old and my nephew uses it for his guitar, of all things.
'Audio Grade'? I don't know. Many DIY guys I know use the Panasonic 'computer grade', whatever the heck THAT means.
And YES, by all means. Cooler gear lasts longer with fewer wacky failures. People that stack stuff up and shake their heads when stuff breaks makes me shake MY head.