Post by SticknStones on Jul 8, 2009 17:36:59 GMT -5
---
My documented approach for evaluating the Emotiva ERC-1 Compact Disk PlayerPreface
Hello friends! It has taken me a while (6 weeks) to put this together and in phases first learning how to create a table on ProBoards forums, learning the Universal Bulletin Board Code UBBC supported on ProBoards, learning BB code for AVS vBulletin board (there is not one standard and different forums allow certain code functionality to work), doing my research, listening, testing but I have wanted to share my impressions with you on the new ERC-1 as a run of the mill hobbyist such as myself! I will forego any mention of package, shipping and such as it was all fine!
Please be aware that this is my non-professional approach for evaluating a CD player and I have spent a fair amount of time trying to figure out just how to share these impressions for everyone while still being reasonably credible in the process! I am assuming that their will be many different experience levels that may wish to read this and as such I have chosen to qualify most of the acronyms and provide some background information for everyone!
I received a few PM's asking me to hurry up so here we go and I hope you enjoy the read! I am wholly open to constructive criticism in ways that can help improve the communiqué and welcome your feedback!
Sincerely,
Sticknstones
---
Table of Contents


Musical Introduction

Sound System Configuration and Specifications

Stereophile Editors Choice: Sampler & Test CD

Error Correction Abilities on my personal Bad Compact Disks

CD-Check System

Personal Listening

Remote Control

Pictures

Conclusions

References

---
Musical Introduction
I have been a music enthusiast all my life playing drums as a teenager and after college played in an alternative rock band until 1991 when we made a CD of original material! The recording sessions for our CD were fascinating to me as I got to experience at least 1 approach for recording our songs and mixing them down! With the CD complete I then made peace with my rock ambitions, sold my drums to a fella getting back into it and on his way to Nashville, then I bought a Sailboat! Started buying 45's, LP's, 8 tracks, cassettes, now CD's when I was around 12 or 13 I think.
My equipment has always been average at best until I found out about B&W and Emotiva! It is all about priorities and where I like nice audio it just did not bump other priorities! All that is changed now where the XPA-3 has been a pride to own and now the ERC plus more to come! The B&W 804 Nautilus speakers were my first move to try and upgrade my gear and then Emotiva! The price point, value, build quality, design, appearance, performance, warranty and service associated with Emotiva products has now created a newly affordable priority for me to have great audio and video gear. I have been having an absolute blast on the forums since November 2008 and have learned so much since then.
I moved to Maryland from Texas 5 years ago and own a modest but beautiful home on the Chesapeake Bay waterfront with the sailboat tied to the backyard pier. As such I have only 1 system that supports all our audio/video listening in the home.
---
Sound System Configuration and Specifications
I wanted to be able to use both CD Players and be able to toggle between the two especially for the A/B testing! I also wanted to have my subwoofer supporting both players! The intention with the sub as a part of my 2 channel was if there is data on the disk then I want to hear it! Especially true with sound effects, and electronic music that would exceed the 45 Hz rating of my B&W 804's.
This photo features a front view of the Denon 3803! Note the Ext-In which is my toggle button on the remote! The very bottom right button on the remote is the Ext-In as well! I will use this button on the A/B tests to easily toggle between the two players each with the same musical disk!
In the image for the Denon backside I have labeled all connections pertinent for my two channel including the powered subwoofer. I could not figure out how to get my subwoofer to work when I was using Ext-in. I had to call Lonnie who helped me configure the connections so that I could use the one subwoofer supporting all audio selections! He walked me through it explaining that most subwoofer data is coded on the FL Side and to twin the FL conx to the Sub Woofer with the Y Adapter (Worked Great)! In the Diagram below this is labeled Option B. Who would of known and thank you Lonnie! Anyone think I could have called Denon, get a real person on the line and a solution in a total span of 15 minutes?
Well let's find out! Okay, I google Denon support, find a number, make the call, go through the automated options, get a young lady on the phone, explain the configuration question, put on hold, listen to their calming ambient music, then after 2 team huddles the Denon team said if I have a sub woofer out on the cd player then I could connect it to the sub woofer input on the Ext In group. They were not able to replicate Lonnie's solution and total time 25 minutes but better than I thought it would be!
I decided to try hooking up the second pair of analog outs from the ERC using a Y adapter and input to the subwoofer on Ext-In group and yes that worked too or so I thought as suggested by someone on our forum! This is labeled as option A in the graph below. I decided to leave option A as the final configuration as it was the last one I did and seemed to work fine! As it turns out when I was doing the stereo image test using the Stereophile Editor's choice disk on track 1 that the Technics was giving me a great stereo image and the ERC was giving me Monaural!!! Yikes, I called Lonnie, shared my schematic and he informed me that option A is not correct and that using the Y adapter from the second set of analog outputs would render a Lowest Common Denominator LCD image which is Monaural. I am learning much but now
Option B
is the final configuration and everything is documented below!
This is a link to a much larger picture it is 3MB! When it opens there will be an option with a magnifying glass that says "All Sizes" which upon clicking will give you the larger view!
Configuration Large View
It is important to note that the only way I could bypass the Denon wanting to process the analog signal was by using the Ext-In group. The Ext-in is a 7.1 analog group to support future needs like SACD or for me by-pass. Because there is not a by-pass capability on the Denon for more than 1 unit my old Technics CD Players analog signal is being re-processed by the Burr Brown DAC's on the Denon! As a result the A/B testing will be more of the Denon DAC's and the Emotiva DAC's versus Technics and Emotiva. For completeness the Denon has Pure Direct(turns off all video circuits), Direct(turns off most video circuits except the On Screen Display OSD will work) and Stereo options. These options are not a by-pass for other Denon owners who might wonder!
Please refer to the table below for CD oriented specifications:
Specifications Table
| | | | |
| --- | --- | --- | --- |
| Component | Emotiva cd | Denon AVR | Technics CD |
| Model | ERC-1 | 3803 | SL-PD867 |
| DAC | Analog Devices 1955 | Burr Brown 1791 | MASH 1bit |
| Out Voltage | 2V rms 7V Peak | 2V @ 0dB | 2V @ 0dB |
| SN | >100 dB A- weighted | 102dB direct mode | 100dB |
| Channel Separation | >95dB @ 1kHz | 96dB | 92dB |
| Weight | 17 lbs | na | 10 lbs but 5 disk player |
| Power Consumption | 25 Watts | na | 12 Watts |
| Interconnects | BJC LC-1 | NA | Monster |
I cannot really tell much from the specifications and there was not an exact match for all specifications like the ERC posts specs on Sample Frequency, DA output filter, opamps, amplitude linearity, phase linearity, and the other two units do not!
---
Stereophile Editors Choice: Sampler and Test CD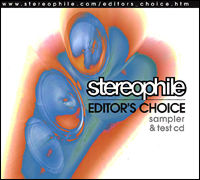 Introduction
Here is my thinking before I get started with all this! How am I going to be consistent with all the material that I listen too!?! I think I need to establish a baseline or reference level for all the listening! I have chosen to use the Stereophile Editors choice reference tones on track 17 to calibrate my listening level and testing levels!
The Editors Choice compact disk was produced by John Atkinson. He is a sound and recording engineer who has carefully documented recording sessions describing all of the recording technology used in the effort. He also describes what you should hear as you listen to each track. The disk does not come with notes but you can go to the website and print the 18 page accompaniment to help you understand the intentions for each track on the disk.
I chose to purchase 2 of these disks so that I can toggle between players! The way I performed the A/B tests was to play a track on the ERC then pause, toggle to the Technics repeat and vice versa.
Here is the summary on the Stereophile Editors Choice Disk;
1. Stereo Image test on Tracks 1 and 2
2. Test tones on 17-23
3. Music on tracks 3-16
Stereo Image as Test 1
The first 2 tracks are a Fender bass used to check your stereo image. Track 1 is left/right channel test and Track 2 is playing the bass out of phase where you can here distinct sounds on each of the L/R channels and finally in phase where sound of the bass is center stage!.
Sure wish I had started with this disk for the listening tests but I received it a month after the ERC. As it turns out I was not getting a stereo image from the ERC as the Fender bass has a very prominent left and right stage on the Technics and totally Monaural on the ERC. All of my listening tests prior to this point will have to be scrapped and re-documented! I explained all of this in the Configuration Section so everything has been corrected with all listening observations and documentation repeated with the correct configuration label as Option B in my picture diagram and using the reference settings established from my readings on track 17 of the Stereophile disk.
Test Tones
The test tones are important for me as I want to toggle between my 2 CD units to do some A/B comparisons.
Track 17 is a long steady tone with a frequency of 1kHz generated in the digital domain. They recommend playing the tone, using a voltage meter set to milli-volts contacting the speaker posts and adjust the volume where you get a consistent 1.000mV reading. Here are the results:
Test Tone 17: 1kHz Frequency
| | | | | | |
| --- | --- | --- | --- | --- | --- |
| Specification | Emotiva 1st rdg | Technics 1st rdg | Emotiva 2nd rdg | Technics 2nd rdg | Comment |
| Milli-Volt mV | 1.006 mV | 1.093 mV | 1.007 mV | 1.094 mV | Measured at speaker posts! I adjust the volume to and get as close to 1.000 mV then take reading for ERC first then read second unit which should be within +/-10mV. The delta is 8.7 mV for first reading and on day two 8.6mV and within the recommended threshold |
| Volume | -15.5 dB | -15.5 dB | -15.5 dB | -15.5 dB | Once the volume is set for the first mV reading you keep it constant and read the difference in mV for second unit |
| SPL Meter | 75-80 dB | 74-80 dB | 70 dB | 70 dB | pretty close for both units and this will be my reference settings for listening to music. Edit 07/10/09 I repeated this reference setting for new Warble tests too. I turned off A/C, closed doors, put pets away, ceiling fans off, and am embarrassed by the difference |
Track 18 is dual mono pink noise. The pink noise is supposed to sound like smooth rushing water with no band of frequency sticking out and also can be useful in detecting speaker problems.
I setup my SPL Meter and monitored the readings for each player for each test tone! They were remarkably close and there were no discrepancies of any sort to report. I think the output volume will be consistent without artificially influencing one source over the other due to volume differences.
I will use the settings from the Test Tone 17 table for all listening and for the Warble tone tests.
---
Warble Tone 1/3 Octave wave tests
I chose to create a table for these three tests. I cannot tell you whether my ears could not hear certain frequencies or whether my audio system is capable of producing an audible frequency in this frequency band. If I were to guess I would say that my ears are the limiting factor.
The table below describes the frequency played and there is a distinct "Bonk" when the test tones cycle to a new frequency making it very easy to track where you are!
These tests are tracks 20-23 where Track 20 is the calibration track. The idea is to use the SPL Meter on all tracks but set a reference level on Track 17 then record or note by how much the sound level drops with each successive warble tone. In addition I will note whether I can even hear the frequency as it is played.
The room rating prior to tests on July 9, 2009 55dB. The SPL meter is left in one spot for all readings!
The room rating prior to tests on July 10, 2009 Lo Db with no reading on the meter!
Bass Decade 1/3 Octave @ -20dBFS
| | | | | | |
| --- | --- | --- | --- | --- | --- |
| Frequency | Emotiva SPL Rdg 1 | Technics SPL Rdg 1 | Emotiva SPL Rdg 2 | Technics SPL Rdg 2 | Me |
| 200 Hz | 78 dB | 78 dB | 69 dB | 69 dB | Y |
| 160 Hz | 71 dB | 72 dB | 69 dB | 68 dB | Y |
| 125 Hz | 78 dB | 72 dB | 69 dB | 69 dB | Y |
| 100 Hz | 79 dB | 77 dB | 69 dB | 69 dB | Y |
| 80 Hz | 85 dB | 78 dB | 69 dB | 69 dB | Y |
| 63 Hz | 79 dB | 79 dB | 69 dB | 69 dB | Y |
| 50 Hz | 77 dB | 77 dB | 69 dB | 69 dB | Y |
| 40 Hz | 78 dB | 79 dB | 69 dB | 69 dB | Y |
| 31.5 Hz | 72 dB | 83 dB | 68 dB | 70 dB | Y |
| 25 Hz | 70 dB | 77 dB | 65 dB | 69 dB | Y- |
| 20 Hz | 65 dB | 76 dB | 63 dB | 67 dB | N |
Midrange Decade 1/3 Octave @ -20dBFS
| | | | | | |
| --- | --- | --- | --- | --- | --- |
| Frequency | Emotiva SPL Rdg 1 | Technics SPL Rdg 1 | Emotiva SPL Rdg 2 | Technics SPL Rdg 2 | Me |
| 250 Hz | 79 dB | 82 dB | 69 dB | 69 dB | Y |
| 315 Hz | 78 dB | 79 dB | 69 dB | 69 dB | Y |
| 400Hz | 79 dB | 82 dB | 69 dB | 70 dB | Y |
| 500 Hz | 80 dB | 85 dB | 69 dB | 69 dB | Y |
| 630 Hz | 85 dB | 85 dB | 69 dB | 70 dB | Y |
| 800 Hz | 82 dB | 83 dB | 69 dB | 69 dB | Y |
| 1 kHz | 80 dB | 82 dB | 69 dB | 69 dB | Y |
| 1.25 kHz | 78 dB | 81 dB | 69 dB | 70 dB | Y |
| 1.6 kHz | 79 dB | 82 dB | 70 dB | 70 dB | Y |
| 2 kHz | 77 dB | 80 dB | 69 dB | 69 dB | Y- |
Treble Decade 1/3 Octave @ -20dBFS
| | | | | | |
| --- | --- | --- | --- | --- | --- |
| Frequency | Emotiva SPL Rdg 1 | Technics SPL Rdg 1 | Emotiva SPL Rdg 2 | Technics SPL Rdg 2 | Me |
| 2.5 kHz | 75 dB | 73 dB | 69 dB | 70 dB | Y |
| 3.15 kHz | 77 dB | 76 dB | 70 dB | 70 dB | Y |
| 4 kHz | 79 dB | 80 dB | 70 dB | 69 dB | Y |
| 5 kHz | 79 dB | 80 dB | 69 dB | 69 dB | Y |
| 6.3 kHz | 77 dB | 78 dB | 70 dB | 69 dB | Y |
| 8 kHz | 75 dB | 78 dB | 69 dB | 69 dB | Y |
| 10 kHz | 71 dB | 71 dB | 69 dB | 69 dB | Y |
| 12.5 kHz | 65 dB | 66 dB | 64 dB | 68 dB | Y- |
| 16 kHz | 63 dB | 61 dB | 58 dB | 61 dB | N |
| 20 kHz | 55 dB | no rdg dB | 52 dB | 56 dB | N |
Interpreting the results
As you scan down the table for each unit the idea is to have the speaker and room acoustics perform such that there is not much decibel fluctuation in the tones! It seems to me that both systems are reproducing the signals well enough and I personally cannot hear the lowest or highest tones. I will not be able to do anything with my room acoustics that would get these tones to equalize but it was an interesting exercise!
Edit July 10, 2009
I received some feedback on AVS that suggested the first set of readings seemed faulty and whether I did repeating runs. I thought about this and bear in mind I am a rookie here that I am in the family room, dog walking, parakeet, ceiling fan, fridge compressor, A/C and most room doors open. I thought I would repeat this the next day in the morning where I could control everything. I shut down appliances, closed all doors, fan off, removed pets and it is a bit embarrassing to me what a difference and why I did not think of it in the first place. I really appreciate everyone who has chipped in some feedback to help me produce a credible report. Thank you!
I will repeat these tests with the XMC and the Emo-Q once it becomes available!
Listening to Samples
Because the music on the Stereophile is new source material for me I needed to pick 5 musical tracks that I would use, read the notes from John Atkinson on what to listen for and just get familiar with the material.
Ugh what a chore, what a drag and right off the bat none of this music gets my motor running! Danny Boy on track 10?

You gotta be kidding I would rather watch grass grow than listen to this for more than 10 seconds! Okay folks, I am going to do this but Danny Boy ain't making the cut and none of the others except Duke Ellington have much Transient attack in the composition.
I do not have high expectations here but I will take notice of what image I am listening for in the notes and record my observations!
Once I get familiar with the recording I will do the A/B tests by loading the disks in each unit as I purchased 2 of them and I will play a track on the ERC then pause, play the track on the Technics and vice versa as I toggle through the music!
I have chosen the following tracks for my observations reducing my lofty goal of 5 tracks to now 3 um okay 2. Better hurry up before I change again!


Gershwin, att. Cea: Prelude III 1'16"
I played this first on the Technics/Denon DACs and it sounded good. I then repeated it on the ERC and I glanced over at my right channel as the tambourine claps were so clear. I replayed it on the Technics and the tambourine claps were more of a clink with no transient decay to hear. I then listened more closely for the transient decay on the ERC and it is there you can hear it fade out once it is struck! I am pleasantly surprised!


Ellington, att. Harris: The Mooche 8'16"
This is a cool song, and coolest of the bunch on this disk. I will have to repeat several times at certain time marks! This is a nice jazz piece where there are multiple soloist on a variety of instruments with trumpet, xylophone, trombone.

I played this first through the Technics/Denon DAC combo then the ERC. When I play this on the Technics it does not sound bad, you hear all the instruments, they are clear but you have to listen for the instrument decay. On the ERC I could tell that the drummer was using a nylon tipped stick when he was keeping rhythm on his Ride Cymbal in much more detail. I could not tell this on the other.

The transient decay on the xylophone work was prominent on the ERC and barely audible on the contrasting unit. These are not night and day differences but the details are apparent to me.

---
Personal Listening with Disclaimer or Subjectivity Rules
Evaluating a CD player by a single person listening to different disks is highly subjective, qualitative and only really useful to the one listener in my view. Things that come into play is how good is my hearing? What do I really know about sound in general? Well, I do know at 53 years of age that I have lost a little bit! I had a hearing test done a while back and have lost some of the higher frequency. I played the drums for years and there are some extremely important concepts for playing and listening to acoustic/electric instruments that I will reference which include;


Transient Attack – time to reach peak decibel. When I crash my cymbals the transient attack is near instantaneous and the eardrum does not have time to adjust so damage can occur. I am pretty sure this weakened me a bit over the years!! Classical music is chock full of transient attacks where the symphony will ebb and flow through the material.


Transient Decay – a time occurrence as well but is the natural completion of a piano chord or cymbal crash as the sound diminishes or fades away from its peak decibel.


Sibilance – This is the audible SSsssss, Tttttt sounds emitted by vocals! There are ways to minimize these sounds during the recording sessions. This can be annoying to certain listeners if the sound engineer does not do a good job of controlling them.


Soundstage – This basically refers to where in the mix you will hear certain instruments. The Beatles used soundstage a lot where there was bass on one channel, guitar on another. Today many engineers will boil it down to mono thus minimizing the soundstage. Classical music generally has good sound stage as the microphone placements to capture such a large ensemble will reveal it!


Measure – I use this term a lot when describing music I listen to and really only in describing rock music. Most rock music is 2/4 time where there are 4 quarter notes per measure. There are many measures in the song and they are typically sequenced as verse(all the measures that have main lyrics), chorus(refrain that has a repeating melody and lyric that has many supporting measures), instrumental and lead measures. I in my drumming days would have to listen to music, write it down in the drum parts for all measures then try and play. It is invaluable to be able to read and play music for whatever instrument you choose. I now find myself as a critical listener still listening by measures where the song is interesting enough to dig in!
---
My listening results will be mostly the ERC and not a direct contrast to the other player but I will provide some contrasting commentary! If I hear something that catches my attention then I will take a time mark and contrast it to the other player. As a final note before I go into the listening stuff, I actually went to my doctor and had them clean my ears but did not tell them why. Interesting procedure, very uncomfortable but glad I did it and as it turns out it was necessary, umm according to the doctors anyway!
Here is my selection of music and listening observations using the Option B configuration:


Beethoven 7th symphony part 2 Allegretto – This is an extremely emotional part in the symphony that has been associated with funeral marches! I wanted to hear this in detail where the strings begin lightly, building up in intensity, it is moving and it sounded awesome.


Delibes Lakme prelude - Classical music is important to listen to as the dynamics change and there is much transient attack in this Prelude with drum, strings and horn sections! The sound was remarkably clear, and detailed to me! In the introduction there is a strong transient attack that is highlighted by the cymbal crash and bass drum. It was very punchy so I did a contrast on the Technics where it was still good but did not catch my attention! It is subtle folks not night and day but nice subtleties! The power of the symphony was not stressed at all and it was impressive to listen!


Delibes Lakme Viens Mallika or Flower Duet – When I die and go to heaven I want two beautiful angels singing this to me as they wave their arms to motion me towards pebble beach to play some golf, after the golf then I will go meet everyone! Okay, back to Earth, this is an operatic duet where one singer solos on the right channel and the other on the left. It makes my heart race to hear this in such detailed clarity!


Foofighters with Let it Die – This song begins with an electric finger pick and vocals then the snare rim shots, kick drum come in and the song layers intensity until it ends abruptly. I wanted to try and do something quantitative with this one so I set the volume to –2 and just watched the amps drawn on both the Technics and ERC. I was wanting to see how much power was being demanded by the players. Here is the table and please note all I did was watch the APC for amps drawn and wrote down lowest and highest register for a time period;

Amps Drawn during Playback Table


| | | | |
| --- | --- | --- | --- |
| Time | Emotiva | Technics | Comment |
| 0 | 2.5amps | 2.5amps | at rest |
| 0.10 | 2.6-3.4a | 2.5-3.4a | electric fingerpick and vocal |
| 1.0 | 3.1-3.8a | 3.5-3.7a | hi-hat, snare rim |
| 1.4 | 4.9-5.1a | 5.4a | kick drum |
| 1.56 | 5.4-9.1a | 5.4-11.6a | guitar attacks |
| 2.4 | 8-10.0a | 8.0-11.6a | more guitar layers |



I am not sure that this is conclusive of anything but I tried it to see and here were the results! I take an hours break as that was really loud! I was trying to see if the 7 volt peak voltage would have an effect but this is really out of my league to test or understand how it could be observed!


Elbow –Fallen Angel, I really noticed the sibilance on the vocals here and tried it on the Technics where it was also present but the ERC is bringing out the detail! I wanted to try this tune to see if the instruments remained distinctive especially in the low bands where the bass guitar and keyboard lows seem to blend or become the proverbial "Musical Mush" on my Technics. The soundstage was very clear and I could distinguish the bass guitar and keyboard work!


Elbow – Snooks, The first time I heard this I could not tell what instrument was being used to create the screeches used in the lead. Once I got the XPA-3 I could tell it was the guitar and on another song they use the same effect with an organ! Tambourine, acoustic claps and guitar screeches are awesome!


Cranberry's – Put me Down, This song is a perennial favorite of mine as the lead vocal becomes a lead instrument that reaches a very emotional intensity, with strings highlighting the passage. This vocal lead lasts for several measures and I am just so liking this as you can feel the vocal power as it registers in the high band!


Peter Murphy – Deep Ocean Vast Sea, On a lesser system this song will crater also into musical mush like on my boat and truck. It is a power-pop tune that needs volume and clarity as the instruments will just blend as noise on an average audio system. Peter Murphy has a deep, resonating voice and I really notice that the instruments stay individually present through out the song!


Peter Murphy – Crystal Wrists, This song features some subtle but excellent hi-hat work in some of the verse measures. It has a closed hi-hat roll and then alternating open hi-hat on 1/8 notes. It sounds just fantastic to hear it like this! I dig it and end up listening to the whole disk but no more notes!

The next song was augmented by a cracking sound with a puff of air that hit my nose and that was me opening a beer (Modelo), plunging on the couch and showing all my teeth as I am done with this section!
---
Error Correction Abilities on Bad Compact Disks
So one day I was over on the AVS forum and noticed how tough it was to express an impression about a CD Player there and not just Emotiva, but anybody's player. What to do? I googled 'How to evaluate a CD player" and got some good ideas! One idea was on the subject of error correction where reviewers would drill holes and scuff them up….well that is not necessary for me as shuttling CD's from various players in cars, boats, homes has taken care of that little problem. So I played some of my bad disks I have and noted in seconds played by track number a contrasting result. This is one of the few tests that will directly compare the Technics to the ERC as it is a disk read operation! Please see table below!
Disk Skips denoted by timemark and Error Correction Table
| | | | | |
| --- | --- | --- | --- | --- |
| | Technics | Comments | ERC | Comments |
| Prob Dsk Trk 1 | 33" | stuck, unplayable even to FF | Pass | whole trk plays |
| Prob Dsk Trk 2 | 18", 30", 1'0", 2'42", 3'15" | skips till 3'15" then stuck | Pass | whole trk plays |
| prob Dsk Trk 3 | 46" | starts skipping non-stop | Pass | whole trk plays |
I think these tests are significant and immediately contrast the quality of read operations between the two!
ERC hands down winner
!
---
CD-Check System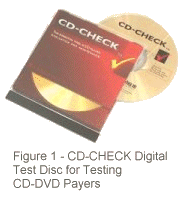 Once again inspired by the AVS guys being so brutal on this subject I also found an article titled "How To Evaluate CD Players" as a google and read this with great interest.
The references are posted in that section but I chose to purchase for $50 dollars the CD Check system so that I could contribute something a little different to you all!
This is a test disk that uses a special RED
TM
signal in combination with disc error patterns to rate the CD players ability to read music and reproduce it completely. There are five tracks that contain a sequence of progressively difficult tests. The tests are referred to as Level 1-5. At a minimum any CD player should pass level one and the best players will pass level 5. Some acronyms used by the CD-Check are Sound Reproduction SR and Error Correction EC. I played the CD-Check 3 times to either average or ensure consistency with the resulting data. All three tests for Level 1-3 were identical but difficult to count the errors on Level 4 and impossible on Level 5 with out the $150 LCD add-on offered by Digital Recordings that will count the errors for you.
CD-Check System Results
| | | | |
| --- | --- | --- | --- |
| Level | Emotiva Error Count | Technics Error Count | Comment |
| Level 1 | 0 | 0 | Minimum Std: Both Units Pass |
| Level 2 | 0 | 0 | Average SR/EC: Both Units Pass |
| Level 3 | 0 | 0 | Good SR/EC: Both Units Pass |
| Level 4 | 0 | 20+ | Very Good SR/EC: Technics has many errors |
| Level 5 | 11 | 100's | Excellent SR/EC: a few audible clicks from ERC and Technics failed big time |
I was really glad to be able to have some quantitative tests that I could share with folks. The results of these tests reinforce what I have found out from my bad disks and what other folks have said about the ERC-1 and its Error Correction abilities!
---
Remote Control
I had to go to the Post Office so I thought I would tote the ERC remote with me and have them weigh it! She comes in at
8.9 ounces
with batteries. This is the only remote I own that has rubber feet and not made of plastic! It is a very well manufactured device. Here are my functional highlights:


Dim Button toggle it once and only the power button/ LCD will display by default all the other buttons and slots have that nice blue highlight.

Display button, default time countdown on track, toggle 1- time left to play on track, toggle 2- time countdown on disk, toggle 3- time left to play on disk

The other day my wife looked at the ERC-1 and said "Is this what you bought" and I said "Yes". She then picked up the remote and uttered one word "Wow"! Yeah, it's cool and I like it!
---
Conclusions
I continue to be very happy with my investments in the Emotiva brand from many perspectives that include Quality, Performance, Value, Design, Appearance, Warranty and Service. I really like the contemporary design that is standard on all the Audio/Video device products and they look great together but most importantly I like the performance and the fact that I am willing to afford it! I also have never seen a CD Player with a 5 year transferable warranty which is a direct testimonial to the confidence that Emotiva has in its own products!
This is the best CD Player I have ever owned but I must admit I had just about the least expensive player money could buy! The Denon does a good job processing the audio signal from the Technics and the Burr Brown DAC's are good quality DAC's but this is an improvement for me and I want all I can get! There is definitely an audible difference in how my music is presented especially where all instruments can be individually distinguished! I also place praise on the Error Correction as I am able to play otherwise unplayable disks despite using these repair kits on them.
Personal Thoughts about CD Players Life Expectancy
There is much talk about CD players going by the way of the buggy whip! They probably will someday but I have a player in my boat, 2 autos, and home theatre. I am very interested in how the technology will evolve and begin to integrate to a platform that supports portability as a single solution. I am hoping that Apple TV, Squeeze box, non compressed digital e-music will eventually present a single solution for me at a reasonable price but not today! Today I need a CD player for my needs and I love owning the ERC-1.
Closing Thoughts
This player will be with me for a long time! I would like to once again thank all of the forum posters for inspiring me to try and do a good job with this. I do welcome any constructive feedback that can help me do this better next time! Please help me correct any failings in my thinking or to better interpret some of what I have done! Thank you very much!
---
Pictures
Here is a link to the slideshow
Slideshow
---
References
I went to great length to try and understand the vast amount of commentary thrust upon the Do It Yourself DIY reviewers of audio/video equipment amongst a few forums. I am not judging anyone's perspective suffice it to say that I have attempted to research the source data available and attempt to interpret it in a constructive manner that could help each of us as we grow our own internal knowledge base on our most enjoyable hobby!
Robert Thompson, 1998 How to Evaluate CD Players
www.digital-recordings.com/cdcheck/sensnd02.html
The link below requires a subscription to read the R.Thompson article but since he liked the CD-Check product the folks at Digital Recordings makes it readably available.
www.encyclopedia.com/doc/1G1-76954424.html
www.usa.denon.com/ServiceNetwork.asp
en.wikipedia.org/wiki/Red_Book_(audio_CD_standard)
The wikipedias are a great source of information but bear in mind that it is open source for those that register and requires cross-validation by specialists that contribute on the subjects.
www.uni-scope.com/articles/stand.html
This is an excellent compilation of how to test a cd player but I do not have the type of equipment to do this and relied on the simple tools used in my effort.
www.ip.philips.com/services/?module=IpsLicenseProgram&command=Print&id=16
This is a nice list of all the compact disk types for Redbook, Yellow Book and so on.
www.fcc.gov/oet/info/rules/part15/PART15_07-10-08.pdf
Here is the unofficial but complimentary version of the much referred to FCC Part 15. I have read this a couple of times and it is subjective to me in that if you authorize or verify a device through the FCC and I believe the ERC would be a class B digital device with an unintentional radiator then there are labeling requirements that will support that accomplishment.
You can elect on the other hand to perform your own verification, keep your test records and upon an audit be able to demonstrate the results. In this case I do not see that you have a labeling requirement. As best I can tell Emotiva is able to choose to authorize and verify through the FCC or do their own internal verification. Given that there is no label I assume these tests were conducted in-house with appropriate records on file!
www.stereophile.com/features/853/
John Atkinson is a sound engineer who painstakingly documented certain recording sessions to detail what type of microphone, engineering equipment and what he was trying to accomplish in the stereo mix. There are about 18 printed pages of detail information that tell you what to listen for in the sample tracks to support the compact disk as you listen.
www.d-mpro.com/users/getdownload.asp?DownloadID=213
This is a link to a PDF version of the Denon 3803 manual. Page 50 of the online pages expresses the Ext-In processing. The connected device to the Ext-In is a complete bypass where the Denon will send the signal to the speakers or the Pre-outs which would be the signal path in my configuration.