Post by solidstate on Mar 25, 2013 6:44:27 GMT -5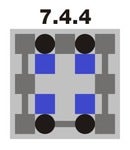 And...it is this very logic I was referring to. I value hearing this type of thing. Ever company has to decide what features to include and not include. I really value Emotiva's candor in sharing their logic behind these choices. One can agree or not with their choices, but each time they share their logic - it makes me think harder about my choices.
As I said, I do not disagree with their choice of a 24-bit DAC. But the "logic" that it is useless to use a 32-bit DAC because there is no 32-bit content misses the point. Of course there is no 32-bit content. That is not why 32-bit DACs were developed. Nor why the DSP used in the UMC-200 outputs 32-bit data, or has 72-bit accumulators. What he shared was not logic, but an illogical misunderstanding.
Was this seriously his retort ?
Didn't it occur to him that some people on here are engineers and would understand that's not exactly true !?!
That makes me question his technical knowledge because it hints at a lack of understanding DACs and the way in-which they receive and process audio.
Probably just a PR biz guy brainfart because it's hard to explain to consumers the maths et al and he's right in 90% of implementations/sources/transport.
The reason you want 32bit is for volume attenuation. Lonny should understand that if you feed a UMC-200 a 24bit signal the digital volume attenuation on the converter will really create a lot of noise and because of the converter choice I wouldn't feed it 24bit in my transport chain.
All of this depends on the design. If the DSP engine does 32bit attenuation then feeds 24bit attenuated audio to the converter vis I2S then it's not a problem with that DAC. If the DSP engine does volume attenuation calculations and feeds the results to the DAC so the DAC can attenuate you've got a problem. This is only with 24bit sources though. Usually with room correction the DSP engine does the PEQ and attenuation/channel trims then passes this signal via I2S to the converters. BUT in the designs I've looked at it the global master volume adjusts the DACs volume at the DAC not in the DSP. This is the case with 90% of designs.
Perhaps this white paper might clarify for Lonny.
www.esstech.com/PDF/digital-vs-analog-volume-control.pdf
I don't know much about the UMC-200's design. Perhaps it has a separate analog volume control but I doubt it as it's a multi chan design and why would you have that when you're choosing the lower cost converter in the first place.