Post by nicholas322 on Dec 28, 2008 16:18:50 GMT -5
XPA-2 review
A little about me.
I am a former musician, a graduate of the "Golden Ears" training course, and have been an audiophile since 1974. I started building loudspeakers in 1979 and have never stopped. I am currently using a 4 piece system, which consists of 2 monitors consisting of Cabasse drivers and 2 isobaric bass cabinets, containing 2 10" German made woofers. The design of which later became the Peerless cc line. My crossovers were redesigned by none other than Geoffrey Dillon of Dillon Acoustics. My sound room is 12' X 13' and I raised the ceiling to avoid reflections, felt padding under the carpet with ¾" closed cell foam padding under different thicknesses of sheetrock in the same room.
It was set up to be symmetrical to avoid uneven reflections and yet give a good nearfield listening environment. It took years until I placed a TV in this room. The upper range of my hearing measures 17,800 HZ. I retired from my regular job in 1995. I am now 49, almost a geezer.
I received a pair of XPA-2 amplifiers about 3 weeks ago and after building a custom rack for them (pictured, paint later!), I was ready to hook them up and hope for the best. My previous Amps were a pair of Bedini 150 Mk-II s with a Sumo Delilah II crossover. They were wired single ended and sounded fine, but rolled off the top end. They are very smooth sounding, almost tube-like, and the bi-amping really brought them alive and allowed the bass to achieve a tightness that just one of these amps could never achieve. They are 150 watts per channel into 8 ohms, and 225 into 4 ohms. The monitors and bass boxes are 4 ohms.
The 2 XPA-2's are connected to a new DBX 223XL electronic crossover. (I say new as the old models were not made by Harman International and did not sound as smooth). The whole system is wired with homemade Balanced Mogami cables with Nuetrek connectors.
A Classe CP-60 preamp and a JVC XL-Z1050 CD player in like new condition, rounds out the team. Speaker cables are a braided, solid silver affair, which predates Kimber, and were made in Long Island. I can't for the life of me remember the name. The Monitors are bi-wired.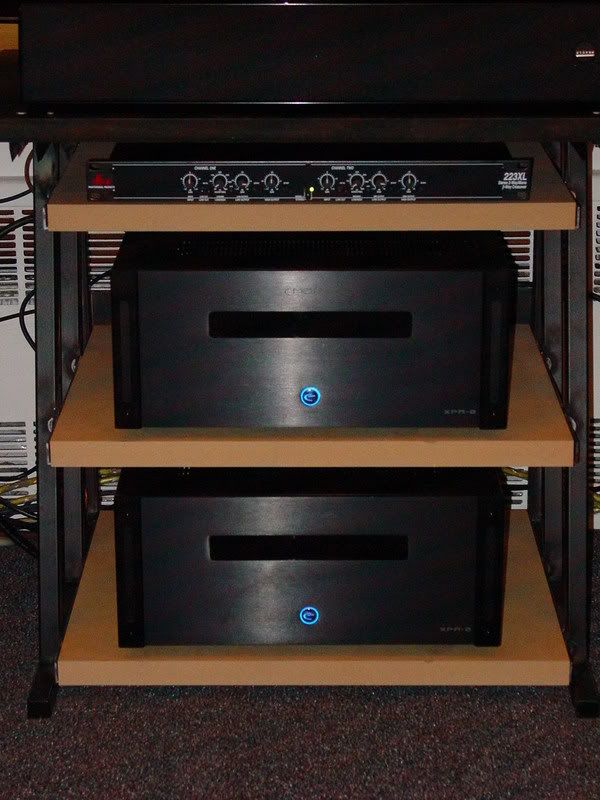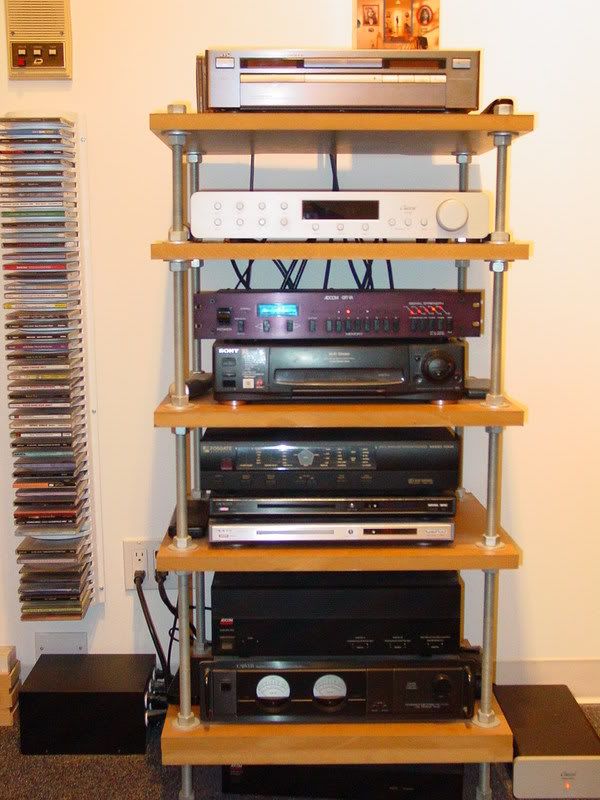 First Impression Friday afternoon 12/26
After hooking up all the components, I was baffled that the sound wasn't coming out right. I figured it was the new crossover, but couldn't figure out what the problem was. It seemed that the bass cabinets weren't balanced and the right channel was extending up into the lower midrange while the left channel seemed ok. At this point I called my childhood friend Animo (who is also on the forum), to come over and give me a hand. I give Animo the manual for the crossover, and he asks, "are all the buttons and switches in the proper position?" (There are a few of these on the back panel as well as the front panel controls). Well, next I push one button, and now the bass extends on both channels, into the upper midrange. (it turns out that when pushing the crossover back onto the rack I depressed one of the buttons) So I put that one back where it was, try another that said "x 1000" and low and behold, in just 10 minutes, we have the crossover working properly. A few more adjustments on the front panel, and we are dialed in perfectly.
The soundstaging was the first quality to grab us. The voices were nicely centered and the soundstage went well beyond the boundaries of my speakers. Only one other amp I had in my system, the Marsh A-400 accomplished this feat, but the Marsh lacked power in the lower bass and at times was on the bright side. With the Marsh I went a little cable crazy until I gave up and the Bedini went back in. I don't feel you should ever use cables as tone controls, but that's what most of us did in the seventies and early 80's, as few amps were very flat. The Emotiva's were neutral in their presentation and nothing in the tonality of the presentation drew me to any flaw. There was no hoot or bloom, but Animo
and I, were astonished to hear my bass boxes going deeper than they ever have.
When I designed these boxes the math said they would go down flat to 25 Hz, but they never did. In room measure response was never better than 30 Hz and I scratched my head many times. With the XPA-2, on bass duty, it was now fully extended down to a measured response of 23 Hz before it rolled off. (I feel vindicated)
The first track we played was from the CD "Tricycle" by Flim & the BB's. For some reason, the recording level on this CD is very low, allowing for loud listening levels and low noise ceiling. The whole album is loaded with very contrasting dynamic levels.
Track 3, "Lunch Hour Wedding March", also contains some very deep organ pedal tones. For this reason, we always use this track whenever we "road test" any speaker. You can check here for a sampling of the album.
www.buy.com/prod/tricycle/q/loc/109/60603443.html
My speakers were finally able to express their lowest tones. There was no audible distortion even at uncomfortably loud levels. One unusual consequence of this new found bass energy and volume, was that at a couple of instances near the end of the track, the energy generated, caused the CD to actually skip. We attribute this to the room becoming excited at those frequencies, and we just turned the volume down a bit. We will address room treatments another time.
Next up was the "Poet Game" by Greg Brown. I relate to his music as I went with my dad to buy a new car in 1963, it was a 64 amazingly this is the first track and it will test equipment's lower midrange clarity. The Emotiva's scored again. They moved out of the way and sang. I rarely hear this, as I look to pick on everything. I would also like to point out that in certain live recordings, applause was congested. This was found to be the inexpensive crossover. Played directly into my speakers, full range, this disappeared. I am looking forward to hearing the latest Bryston crossover in my system as soon as I can but I want a sports car.
Next up was the Beatles' "LOVE" album.
On the opening cut, there is just the vocals of the Beatles remixed with some wildlife sounds from the park. I have to confess, we never noticed them before. There are birds and even the sound of a bee and I found my self transported to Central Park. It was a nice effect. Even the silence between the vocals and background sounds was just that. Totally silent. No artifacts, no hum, no noise, period.
"Daylight Again" by Crosby, Stills, & Nash. On this CD my favorite song is "Southern Cross". Even though this cut is highly compressed, as the engineer took into account the sound systems of their audience age group, it connected well. Hear the live version if you can, but this CD is a killer if the frequency range of your amp is not flat.
"Pearl Jam 10". To me the album cover looks like a bunch of people trying to steal a guy's watch, but the music is great. If your system is bright it will really show with this disc. It played perfectly.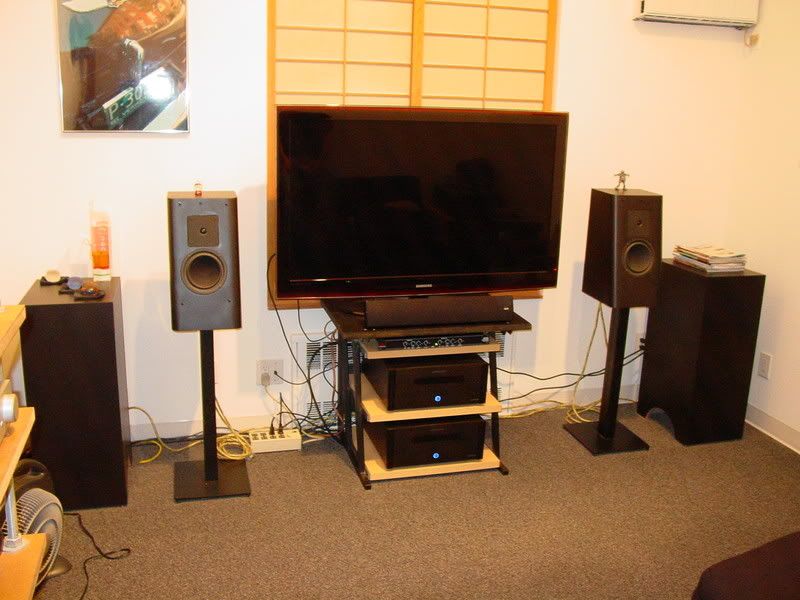 Friday Evening
Next we fired up my 52" Samsung 650 HDTV and Fosgate surround processor. It's the old analogue model 4 The first thing we did was to do some minor adjustments, compliments of the minimalist calibration program available on the "Terminator 2" DVD. Once dialed in, we watched the opening fight scene. To our amazement, my new ERD-1's, which replaced my ACI surrounds, blended seamlessly into the soundstage. Planes coming in from the back to the front, or tracer shots doing the same, gave pinpoint location, without revealing the speakers themselves. Even offstage sounds were where they were supposed to be, and again blended in perfectly with the main action that we were viewing. Whether moving from front to back, or left to right, the sound appeared to always be where it was supposed to be.
Next we grabbed some munchies and proceeded to watch "Hancock" with Will Smith.
For anyone that has not seen this movie, all I can say is I highly recommend it. Aside from the extreme action and great special effects, the humor and story line really keep you involved in the movie. Whether it was a fight scene, Hancock flying or landing, or things breaking all around you, again, the sense was that everything was where it was supposed to be. Since it was getting late, we decided to call it a night and continue on Saturday.
Saturday Evening
Me, my girlfriend, Animo, and a pizza.
Since my girlfriend hadn't had a chance to hear the new system, we decided to make it an event. Since we had not seen the third episode of the Terminator series, Animo brought over T3 and a pizza. Anyone that has seen T3, knows this is action packed from start to finish. Once again we were amazed by the quality of the sound and the pinpoint accuracy of the location, no matter where it was centralized. So far it seems that no matter what we are watching, we become enveloped into the soundstage. It's more like we were there feeling, instead of a watching a feeling. It actually feels as if you are drawn into the movie. The soundstage jumps out at you and sucks you right in. All I can say is, this is the first time I have ever heard a home theater sound like a real theater, and I'm glad it was in my house. Animo is a little jealous right now, because he is just getting started on a home renovation, possibly including a bump out of his basement to make a dedicated home theater. His XPA-2 & XPA-5 are still sitting in their boxes. When he is finished, I might become the jealous one, because the speakers we built for his system sound better than mine, think Avalon indras with more bass.
No matter what the source, whether audio or video, the amps were great, without causing fatigue or grain. We listened for hours and never felt like we wanted to stop. Even after extensive playing at high volumes, the amps never strained, and appeared to be telling us, "we got a lotta mo". They always remained cool to the touch, unlike many other amps or receivers we have tried in the past. We have listened to over 40 brands over the years, and the Emotiva XPA-2's have found a new home. Actually, 2 new homes.
Right after this review I ordered another Amp, the 3 cylinder job this time.
Does anyone want to buy an Adcom GFA 2535, 4 channel amp?
One more note;
I listened to Crosby, stills, nash and young American dream there are bass notes that I never knew were there. I have never had a truly full range system before, I have read reviews that the JVC CD player lacks bass. Not true!! I have never had an amp that goes this low.If you are in brooklyn NY stop by for a listen.