Post by pedrocols on Apr 18, 2015 11:37:05 GMT -5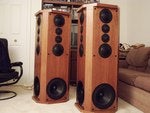 ALL
sunglasses alter what you're seeing, and therefore aren't accurate, doesn't mean that they don't sometimes improve your viewing experience. It doesn't even mean that you shouldn't wear them in the house if you like the way your living room looks better with them on. (But you would be misleading yourself if you were to imagine that sunglasses were
more accurate
than clear glass; in fact, you really can't judge which sunglasses are better until you accept the fact that you're buying them because they alter things in a way that you find pleasant. You can't do a very good job of picking out which color of sunglasses you prefer if you keep insisting that they aren't colored.)
In the case of things like "warmth" and "dimensionality", what's happening is simply that the tube amp is adding changes to the sound that sound nice. In some cases, even though the amp is not being accurate to the signal you feed into it, it may even actually produce a result that is more accurate
to the original experience
. For example, modern close-miked multi-track recordings are somewhat "dry" in terms of harmonic overtones; by altering the signal and adding some second harmonic distortion, a tube amp may end up being closer to what you would have heard if you were actually at the concert than what is on the recording. Likewise, if the actual recording was lacking in "depth" or "dimensionality", the phase shift that most tube amps cause may actually "create" a convincing enough illusion of dimensionality to compensate for that lack. (Just like many modern TVs can produce a convincing and pleasing illusion of "3D" from a 2D source - even though we all know they're faking it, they do an excellent job, and the result
looks
good.)"
I love this answer from Keith and the "sunglass analogy."
And, I agree it's not Tubes VS. Solid State, it's which sound do your ears prefer; the one where the signal is MORE altered from the original (tubes) or more ACCURATE (solid state) and yet less pleasing to SOME ears.
It's interesting that engineers such as Bob Carver have solid state amplifiers that have a modified voltage source to obtain, at least some of the audible characteristics of that "tube sound".
I suppose it would be quite the paradox if the tubes could be advanced enough to amplify as accurately as their solid state counterpart. Then, no need at all for them?
This is exactly why I am glad I hear with my ears and not with a oscilloscope....We could both wear the same exact sunglasses with the same lightning and still see things differently...