Post by Animo on Mar 11, 2009 18:32:56 GMT -5
This past Sunday Nick and I invited a few people over to Nick's home, for our first Emotiva "Brooklyn Bash". We were all immediately welcomed by a sign on his front door. We knew we were in the right place.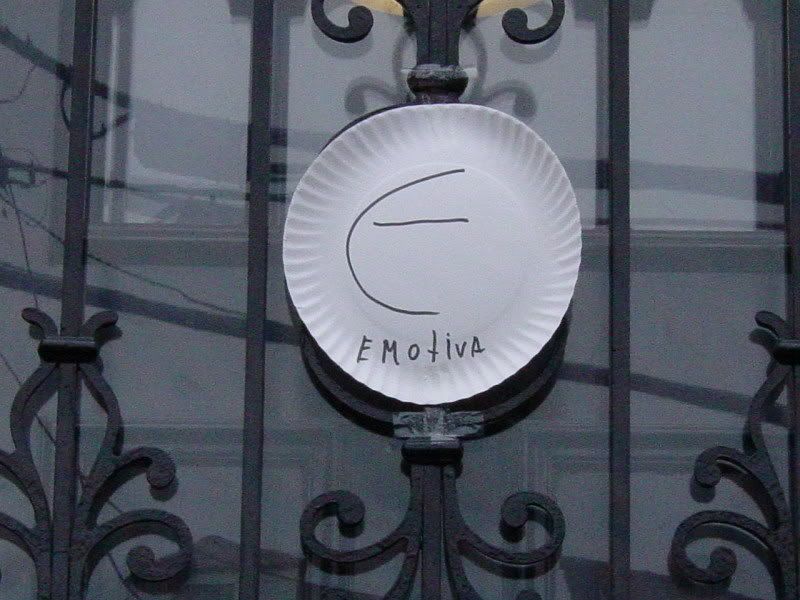 The main reason for this gathering was to compare the Emotiva RSP-2 preamp with his Classe CP-60 preamp.
(Original retail was around $3700 without phono stage).
The CP-60 is considered an industry standard and has an outboard power supply, no tone controls and no on-off switch. Things that were considered cool when he bought it.
The rest of the 2 channel system consists of a JVC-XL-Z1050 in mint condition.
A DBX 223XL electronic crossover, feeding 2 Emotiva XPA-2 amps, which power his custom Cabasse 4 piece system. One amp feeds the monitors and one amp feeds the bass boxes.
All cables are Mogami and the system is wired balanced throughout with only the CD player running single ended. We also had my XPA-2, my speakers and the ERM-6.3, that we were only able to briefly demonstrate, due to the time of day. (As Nick and I have discussed our speakers in many posts, I am hoping the Emotizens in attendance will post their impressions). As you can see, the room got quite congested.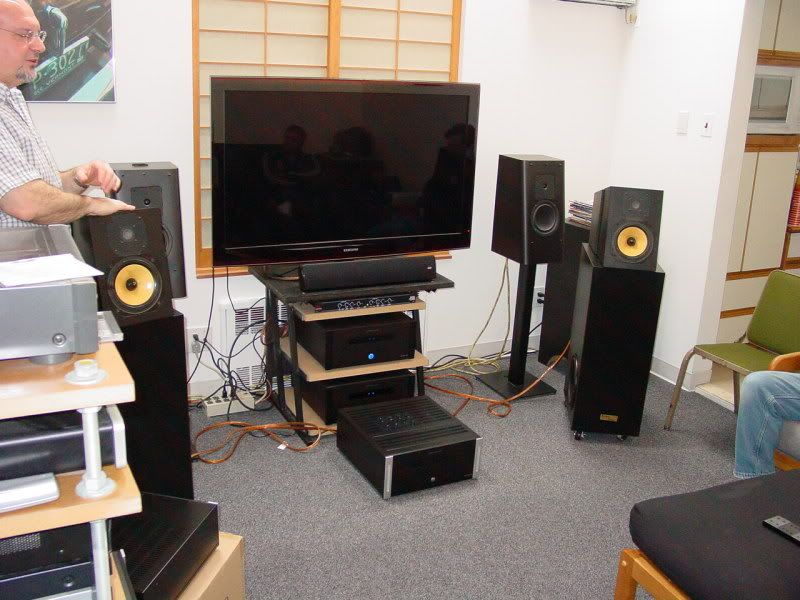 To answer the question as to whether or not the XPA-2 is an audiophile amp, our answer is, it's flat and sounds neutral and musical. (We have had quite a few good amps over the years.)
The attendees in no particular order were.
MrBen, who was kind enough to bring over his RSP-2 preamp and an audition CD with a large selection of music to sample with both pre-amps. (He drove 2 hours each way)
Wideawake, who came from New Jersey and brought the most fantastic Indian music we have ever heard.
STC4LIFE, an Attorney from Manhattan, traveled over an hour each way by NY City Subway and promised he would not sue us, if the music was bad.
Nick was a gracious host, and he and I supplied the chairs and pizza.
We had a room full of serious gentleman, and although we tried each other's patience by getting too chatty, we got some serious listening done.
We started by playing track after track from the reference disc, here are the songs listed as supplied by MrBen.
When the source is a SACD, what MrBen put on the CD was taken from the CD layer.
Artist, Song, Album
YoYo Ma, Seven Tunes Heard in China #1, Solo SACD
Blue Man Group, Club Nowhere, Audio
Angelo Badalamenti, Dance Of The Dream Man, Twin Peaks Soundtrack
Rusted Root, Drum Trip, When I Woke
Jill Tracy, Evil Night Together, Diabolical Streak
Michael Buble, Fever, Michael Buble
Scissor Sisters, Lights, Ta-Dah
Rammstein, Mein Teil, Reise Reise
Bjork, Mouth's Cradle, Medula SACD
Diana Krall, Peel Me A Grape, Love Scenes SACD
Tom Waits, Poor Edward, Alice
Mozart, Tuba Mirum, Requiem in D Minor K626 SACD
Junior Wells, Ships On The Ocean, Come On In This House SACD
Hazmat Modine, Steady Roll, Bahamut
Jennifer Warnes, The Well, The Well SACD
Bjork, Triumph Of A Heart, Medula SACD
Hillary Hahn & the LA Chamber Orchestra, Violin & Oboe Concerto in C minor BWV 1060 III Allegro, Bach Concertos SACD
At this time I would like to say that there were also some other CD's we played from vast collections on hand and brought by attendees. But let's stick to the list.
These are some of Nick's impressions………
Tom Waits, "Poor Edward"
When I heard this track on my system it sounded like someone singing with a falsetto and the bass was not quite natural. I had never heard this artist before. With the Emotiva the bass was better and the voice sounded real, as if it was his real voice. It changed from a novelty recording to a real musical story.
Dianna Krall's, "Peel me a grape".
This cut is used as a reference to test for excessive sibilance and high end roll off. While I could find nothing wrong with the Classe, the Emotiva had more air and a little more detail with her vocals.
Mozart, "Tuba Mirum", sounded wonderful both ways, but with the Emotiva I was emotionally involved from the first note. You can reproduce Mozart very well or very bad. This was the former.
Nick's conclusion was that the Emotiva had better detail, pitch definition and more detailed and natural bass. Voices were easier to understand and there was no fatigue included. He loved it! His only wish is that it had some balanced inputs for a CD player, and possibly balanced inputs for the processor pass-through.
My impressions......
Let me refresh by stating, that I have been listening to the evolution of Nick's system for almost 30 years. From a Pioneer receiver and a pair of Klipshorns in a teeny tiny room, to what he has today, in a not much bigger room than before. I am almost as familiar with the nuances of his system as he is.
YoYo Ma, "Seven Tunes Heard in China #1"
This is simply a cello solo. The presentation of this track, played through the Classe preamp, was enjoyable to say the least. Precise placement and localization of the music. With the RSP-2, the presentation was more in your face. The sound stage was more forward, there was more "air"and depth. To me, it sounded live as opposed to a recorded performance.
Blue Man Group, "Club Nowhere"
We all know the dynamics involved with this music. The Classe gave a nice clean presentation, however, the frequency response seemed to open up a bit more with the RSP-2. The high's were fresh and crisp, yet the lower frequencies seemed to be more pronounced than with the Classe.
Michael Buble, "Fever"
Once again, the Classe gave a nice presentation. There was really nothing to complain about. Yet, once played on the RSP-2, the presentation became more lively and pronounced. Dynamics were just that, dynamic.
Diana Krall, "Peel Me A Grape"
Tom Waits, "Poor Edward"
On both of these passages, I concur with Nick's findings. Tom Waits' voice goes quite deep, and even seemed off key at times. This observation was with either preamp. However, with the RSP-2 there was indeed a more natural quality to the sound. Diana Krall's vocals were a little laid back through the Classe. With the RSP-2, there was more presence and depth to the presentation. Not to mention, smoothness and clarity.
I know Nick wanted to stick to the list of music mentioned above, however, I couldn't help but remark on Wideawake's music. Indian instruments have a unique sound quality all their own. Especially some of the Indian percussion instruments. There was one passage that while it sounded okay through the Classe, I immediately began to get visions in my head when played through the RSP-2. That happened with the sound of the percussion making me visualize large drops of water, plunking into a pool. It's just such a unique sound, but it was more compelling and involving when listened through the RSP-2.
My conclusions......
While I have no complaints about the sound produced through the Classe CP60, I was simply taken by surprise with the presentation afforded by the RSP-2. In all forms of comparison..... sound stage, clarity, depth, frequency range and extension, imaging, detail, and emotional involvement, the Classe took a back seat to the RSP-2. The sound quality of Nick's system seems to improve with each piece of Emotiva equipment that comes through the door. I have a feeling we will be seeing the Classe CP60 on Ebay sometime soon, and an RSP-2 filling that void in his equipment rack......even if it doesn't have balanced inputs.