Post by adaboy on Jan 21, 2019 10:54:02 GMT -5
Just to clarify one detail that many people seem to find confusing.
A pure resistance remains the same at all frequencies (so, for example, a "4 Ohm speaker" that doesn't exhibit any reactance will be 4 Ohms at 20 Hz, 4 Ohms at 1 kHz, and 4 Ohms at 20 kHz).
A load that exhibits capacitive reactance will have an impedance that gets lower as the frequency goes higher; a load that exhibits inductive reactance will do the opposite.
Virtually all speakers are somewhat reactive, and most have an impedance that zigs and zags up and down because they actually have a rather complicated combination of inductances and capacitances.
However, most "well behaved" speakers are mostly resistive - and most 4 Ohm speakers never fall below about 2.5 Ohms anywhere in the audible frequency range.

Most amplifiers are designed to work best with a purely resistive load.
Most amplifiers also work just fine with a well-behaved load (see above).

What we're talking about here is how tolerant a particular amplifier with difficult load.
Asking an amplifier to drive a load that drops to 0.5 Ohms at 20 kHz is about equivalent to towing a small house using a consumer pickup truck.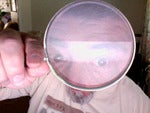 Not only is the impedance at higher frequencies nearly a dead-short, but the REACTANCE is a dilly, too.
www.stereophile.com/content/sound-lab-1-electrostatic-loudspeaker-measurements
While this is ONE electrostat, these measures follow the typical pattern. The 75 degrees at the highest frequencies is something that FEW amps will work well with and virtually NO HT receivers.
Just read the first paragraph of the review. Than have a look at the graph of impedance and phase data. Where the 2 lines cross, if at a low impedance AND high phase angle, spells TROUBLE.
Get an old Krell and be done with it. Some persons dont' agree with the Mc house sound.
Another POSSIBLE solution would be to use an impedance matching transformer between amp and speaker. I can't find the link right away, but this article might be of some
help.
www.electronics-tutorials.ws/transformer/audio-transformer.html
But they can pull space shuttles 😊
I do throughly enjoy reading your electro-historian post. They offer a great layman's understanding of complicated tech speak. One day when I make it to Franklin would love to hear a lecture or two in person.
Now back to the problem at hand, what are your thoughts Keith?