Post by robs on May 10, 2019 12:24:13 GMT -5
I figured it's about time I chimed in with a few comments....

I have always considered the DC-1 to be a really excellent DAC - and I haven't changed that opinion.
(I can honestly say that I haven't heard any other DAC in the $500 price range that I thought sounded better.)
And, of course, you DON'T need a preamp to go with the DC-1.

Individual DACs sound different for a variety of reasons - however there is no specific technological advantage to "multi-bit DACs".
The claim that "such and such a DAC preserves all the original samples", while true, is really a sort of red herring.
The output on your DAC is ANALOG.... therefore, you aren't hearing any samples, original or otherwise...
All that matters is how accurately that analog output represents the information that those samples were carrying...
(And, to be quite blunt, how it minces and dices the samples on the way to that result is totally irrelevant; all that matters is the result.)
I've never heard one in person, but the Vidar seems like a nice little amp, so I have no comments on it either way.

However, unless you actually need more power, the result of which would be a slight increase in how loud you can play your system, I see little reason to add a second one.
(And, while the Vidar seems like an excellent deal on its own, when you look at the price and performance of a pair of them, there are other options to consider.)

I am of very mixed opinions when it comes to tube buffers.
Most modern equipment should have no need for a buffer - and there's no reason to suggest that it would improve anything.
The ONLY thing that a TUBE buffer can do, beyond being a buffer, is to add coloration to the sound.
I personally prefer to avoid coloration whenever possible - so I have no use for them.
But, while I haven't heard the Saga, I've heard other tube gear from Schiit Audio, and found it to be well designed and nicely built...
Also, to be fair, while some tube gear sounds almost indistinguishable from solid state gear, Schiit's tube gear usually manages to sound like what it is.

So, if you really want tube coloration, then that's probably a good way to get it.
(Also, worth noting, is that a tube power amp usually adds a a lot of coloration, and has a major effect on the bass because of its low damping factor; the effect from a tube buffer will be more subtle.)

I would, however, suggest that you actually compare the sound of your DC-1 to that of your new DAC (with and without the tube buffer).
You might be surprised about which pieces of gear actually end up where.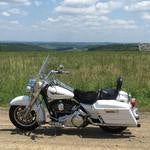 Keith, thanks for the reply.
A few questions emerge from this:
1) Isn't the DAC chip and digital filter part of the analog board? So wouldn't it make a difference not to have a digital filter that destroys the original samples when it does upsampling?
2) What kind of oversampling does the digital filter in the DC-1 do? I can't find on the AD1955 spec sheet what the actual bitrate is. I know it supports 24/192, but that could mean it just passes through with no digital filter or oversampling. I would like to set my music library (and downsample if needed) to match the native playback on my DC-1.
3) You said before that the DC-1 is a an active (buffered) pre-amp. Do you know how much gain is being output? The Schiit Saga with an active tube hybrid (and passive mode) only outputs 1db of gain, so I'm curious what the DC-1 is.
So it seems that the real draw to Schiit multibit products is their mega combo burrito filter.