Post by boomzilla on Mar 30, 2020 15:15:21 GMT -5
For those unfamiliar with the Speakon connectors, they look like this: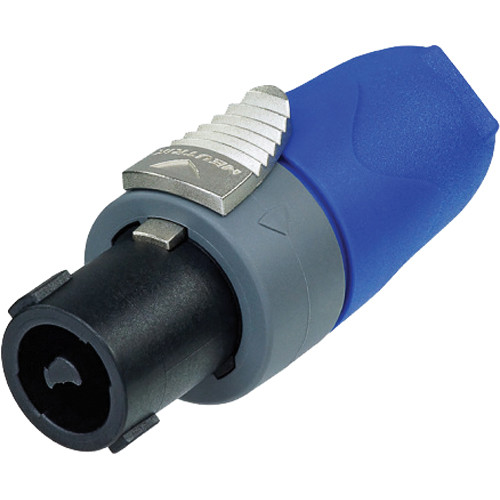 So what's to like about Neutrik Speakons? Plenty:
1. The wire connectors in both the plug and the socket have a LOT of surface area and clamp to the wire tips with tighten-down screws
2. The wire jacket is stress-relieved by the connector, and it's TOUGH to yank a wire out
3. The connectors lock together with a quarter-twist, and once locked, provide a REALLY secure connection
4. The very best Speakon connectors are still dirt cheap compared to most wire terminals
5. The Speakon connections can be made and broken in the dark by touch - no more crawling around behind your speakers to see which terminal is red
So the comment also brings up the question, "What's to DISLIKE about standard consumer home speaker connections?" IMHO, plenty:
a) If you use bare wires, they're NOT easy to attach. The speaker posts have tiny holes in them and you've got to "thread the eye of the needle" to get your wires through there without strands escaping from the bundle.
b) If you use bare wires, your AWG is limited by the speaker posts' tiny holes.
c) If you use spade connectors, hooking up the speakers becomes a two-hand job. You've got to hold the spades under the terminals with one hand and tighten the terminal cap with the other. Half the time, the spade terminals are too narrow for the posts on your speakers; the other half of the time, your spades are WAY too large for the posts on the speakers, and the torque of tightening the caps causes the terminal to skew and maybe even come off.
d) If you use banana plugs, you may or may not get a snug fit. Banana jacks only roughly follow any size standards. If the fit isn't snug, the connection can be intermittent, or the plug may even fall out.
e) If you use "locking banana plugs," you may well damage the sockets by stretching them with too much plug torque. If you stretch the sockets, then from then on, you'll HAVE to use locking bananas, because the cheap friction-fit ones will no longer grip well.
f) Torque is always a problem with bare wires, spades, or bananas. If you (or some previous owner) has used "gorilla grip" while tightening stuff, the actual posts may be rotating in their mounts, and you'll never get a good connection again.
ALL the above issues are solved forever with Speakons. Should I ever build a pair of speakers again, I'll definitely be using Speakons. YMMV