Post by AudioHTIT on Jun 20, 2020 5:32:21 GMT -5
I wrote this looking for help on another board, but persisted and fixed it while I was waiting for someone to respond. I thought I'd post here if anyone else needed to do something similar.
.............................................
Long time B&W owner, first time in this thread. I have a B&W HTM3S that I believe has a bad tweeter, connecting to either bi-wire connection with pink noise yields no tweeter sound (could also be the crossover). I have found that B&W sells a replacement tweeter for $135 or so, but I also have an HTM4S which I'm not using and found it uses the same tweeter. I've gotten as far as removing the tweeter grill and three small screws holding the tweeter in place, but it doesn't budge.
Has anyone seen a service procedure for replacing the physical tweeter (not the entire assembly), on a speaker in this series (HTM3S, HTM4S, 805S, etc)? I have found the page below which implies I need to take the mid-range driver apart, remove it with a special tool, and then remove the entire assembly from inside; but I remain optimistic that the tweeter itself can be replaced (feel free to burst my bubble if required).
B&W 800D_Series_FST_Midrange_Replacement.pdf
B&W Parts Store
Here's my current state: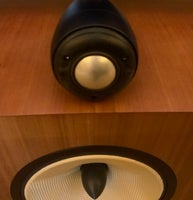 1st Edit: I got brave and used a screwdriver to pry the tweeter free (see second photo), now something is holding it from behind, though I have unscrewed the wave guide in the back.

2nd Edit: I got braver and with more light saw that with needle nose pliers I could disconnect the tweeter leads and remove the unit, troubleshooting continues.

3rd Edit: First eliminated crossover problems with voltmeter on tweeter leads, pink noise produces a voltage. Then found no continuity on tweeter. Then into uncharted territory, it appears the tweeter coil / dome assembly is held in place magnetically, I carefully removed it from the magnet assembly and tested further, the leads are good, but the coil itself fails continuity. I believe what you see in the 4th picture is the part that needs to be replaced, what they refer to as 'the tweeter' ($145 part # ZZ14359) though it doesn't include the magnet and housing.

4th Edit: Fixed! Took the tweeter out of my HTM4S and replaced this one. The hardest part is reattaching the leads, especially because they're very short and you have little room to work, coupled with the strong magnets pulling the needle nose off the mark (aluminum pliers?). One mistake I made was removing the three screws first, that should be the last thing you do before removing the tweeter dome & lead assembly, and the first thing to put back when the new one's in place. The screw in aluminum wave guide in the back (along with the leads) are what actually hold the tweeter assembly into the outer black cone.

This isn't an easy fix, but probably saved at least $100 (minimum bench charge at my local dealer), I also didn't have to lug a heavy speaker down to the shop and wait until they got to it. If you're patient and careful it can be done, took me about two hours including figuring this all out, testing, and removing the tweeter from the other speaker. If you had the part before hand, it would take about 20 - 30 minutes.

One last thing, if you've looked at or owned B&Ws (especially 800 series) you know they're built well, I gained a whole new appreciation of their parts quality and precision machining.