Post by stads77 on Aug 6, 2017 16:46:44 GMT -5
First off I apologize if this thread is not put together nicely for you, I have started with the story of the process and then placed pics in later posts. Bear with the words of you can and then you will be able to see the actual process in the pics. I did not take as many as I should have but there are enough to tell the story.
Hello my fellow forum members,
I am happy to finally introduce you all to my newest project and addition to my home.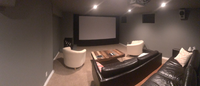 I have been desiring to have my own dedicated theater room since I got into the audio hobby about 10 years ago. My wife and I bought our first house about 8 years ago, being about 1100 sq ft it just wasn't in the cards. I settled for an ever improving 2 channel system as my love of vinyl grew and my used gear buying and selling allowed me to try all kinds of amp/speakers/ etc.
About one year ago today we were able to afford a house twice the size and thus my journey into building my own theater began. I have always enjoyed wood working and learning so i really wanted this to be something I could share in, along with inviting my 8 year old son into. My forum reading had lead me to desiring to try some diysoundgroup speakers. I decided on 3 HTM-10's and 2 volt 6lx's as a 5.0 system. Further reading had me desiring to try a DIY acoustic screen and false wall. I had minimal space for a false wall, but I was convinced it was worth a try. Everything i read made me more and more nervous I was making a mistake if I had any less then 2' of wall cavity. Because of a fireplace, I ended up only having about 14" to work with.
Long story short I began building the wall, planning out the screen size and then planning the subwoofer cabinet builds. I wanted 2 subs to work as speaker stand behind the screen. With only 14" to work with I was struggling to find a way to accomplish my goal. Still not too deterred I went forward and found 2 used dayton ultimate 15's that were fairly shallow. I planned 2- 5 cft enclosures and went forward.
Next was building the speakers. They came well packaged and simple enough to put together. I opted for the already assembled crossover boards, since the cost seemed fair enough. They were pretty big speakers, not as deep as my Stealth 8's but bigger by fait in every other dimension. They sounded great out of the gate, so i was thrilled. I had not ordered the Volt6's yet as I was running low on funds. Next up was the screen and projector...
This step was perhaps the most risky for me, at least in terms of success rate. I was very suspect of building my own acoustic screen that was 125" diagonal. Everyone had a different experience with clarity, etc. Ultimately it came down to cost. There are very few options for prebuilt screens unless you want to spend a fortune (atleast to my pocket book). I opted for silver matte miliskin fabric under matte white moleskin 4 ply spandex. The cost of the fabric was about $70 shipped, plus another $60 in wood for the frame. The fabric stretched well and went without issue, though the frame did have a slight curve to it after attaching fabric, but that did not create much of an issue for me.
After making frames to stretch some black fabric over to cover the edges of the false wall and subwoofer enclosures, I hung the screen successfully. Now the next step was deciding how much I wanted to spend on a projector and where to mount it optimally. I decided on a BenQ 2050 as it was constantly rated as the best budget HT projector for rooms with little light and needing to spend a lot more to get more image quality. Being new to the projector world I found myself in a bad spot. I had maximized my screen size thus leaving my only a few inches from the ceiling..... Lens Shift is not your friend with cheaper projectors. I quickly realized I would need to cross my fingers and hope I could mount the projector as tight to the ceiling as possible so compensate for how little space i had left for the projector to throw the image downward. I received the BenQ and began to makeshift a wood carriage to place it in, using little neoprene spacers o level it out. Again, everything works pretty well and the projector had just enough shift to fill the screen, Sweetness!
Next I began building a shelf unit into one of the walls to hold all the components and planning how to feed all the wires to each component. I had no interest in ripping out ceiling or walls to completely feed everything in the wall, so I did what I could and it worked well, all mostly hidden and not a eye sore. Finished the media cabinet and had funds to order the last speakers, the Volt 6lx's. Built the last tow speakers, including soldering my first crossovers, painted them the wall color, and done! Lastly, I painted the whole space a uniform darker gray color, including the ceiling and chimney (which helps drastically!).
Some final touches including making a platform for a second couch, adding my own SI 18" end table subwoofer to smooth response in the entire space, lastly filling corners of false wall with roxul insulation. All these final details helped to tame the room response. With my Umik and Rew I calibrated the phase of each subwoofer and got a room response pretty flat from 5hz-10khz, yes flat and with profound output into 5hz!
So was it worth it? I have nothing but good things to say about the HTM-10's. They are efficient with merely a UPA-500 and they sound amazing behind the screen. I found no ill effects being about 3" behind the screen. the subwoofers pound and yet blend beautifully with the mains and surrounds. The rear/near field sub helps a ton to balance the room. I highly recommend saving the cash and enjoying the journey of building a theater from scratch.
Blessings my friends and thank you for helping me choose this path for my home

lots of pics to follow