Post by 405x5 on Feb 22, 2019 0:07:57 GMT -5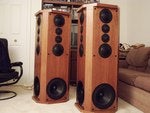 Bill
I have contacted support several times. There were a few promises to "look" at a few things, which they never did. To answer the OP: Emotiva will not be fixing any of this, they haven't even updated the firmware in forever. I would be shocked if anyone official commented on this thread. Threads like this are one way to either get a response, or at least show possible buyers to avoid purchasing a unit with so many issues.
My issues were:
4k compatibility with a few common devices, also a 4k problem that caused the MC700 to need a hard reboot to fix - this was the issue that they never got around to looking at. Since then, some other users have commented that their MC700 works with some of the devices I had problems with, so maybe my unit was defective. However, I would never know since they never offered to look at it or test the problem on their own despite my unit still being under warranty at the time.
Audio pops with source format changes - I was told this was due to their design choice - they used an HDMI switch that can't detect format changes, so it will play encoded digital noise like it is PCM until the firmware figures out that an encoded signal is being received.
Audio drop outs - never complained about this, but it happens enough that I had to hear my wife complain about it all the time.
Lip sync - I had some issues with this with Amazon streams. Manually adjusting the lip sync only works up to a point. After some point, it doesn't seem to apply any further delay despite the delay number changing.
I replaced my unit with a Marantz and have never been happier. The MC700 is gathering dust on a shelf. I feel too bad to sell it to some sucker, so it is basically worthless to me.
Wow!
I have no words except to say that, when comparing my own personal experience with emo. Tech. Support to what I've read here, I would say, you guys must have dialed the wrong number. 😆😁😄😃😀
Bill